By Ed Schmidt
One of the more unusual things that has happened during my presidency of the St. Louis chapter occurred in late September.  I received an email from Wild Ones executive director Donna VanBuecken asking me to respond to an email she received from one Geoffrey Soyiantet, stating that the Kenyan community in St. Louis would like to plant a tree in honor of Professor Wangari Maathai (sometimes spelled Mathai), Africa's first female Nobel Peace Prize laureate, environmentalist and human rights activist.
I replied to Donna that I would be happy to do so, especially since I taught in Kenya for two years in the early 1960s, about the same time that Professor Maathai, as well as President Obama's father, was in the United States getting a college education.
In my email to Geoffrey I recommended that he contact Forest Park Forever's Peter VanLinn, who led our wonderful walk in the park's natural areas during our September meeting.  I concluded my email with, "Zamani sana nilikuwa mwalimu huko Kakamega, Kenya, miaka 1961 – 1963. Labda mbele ya uzaliwa yako?"  That's Swahili for, "A long time ago I was a teacher in Kakamega, Kenya, the years 1961-1963. Perhaps before you were born?"  I copied Peter VanLinn on the email.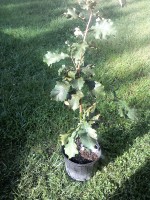 Peter replied promptly to Geoffrey, explained Forest Park's guidelines and requested further information about his group's wishes.  Did the group have a particular species in mind?  Did they prefer a location in a more formal part of the park where a master plan would dictate location and species, or a more natural area where there was more flexibility?  Peter also noted that the tree would be relatively small, "such as one grown in a 3-gallon pot, so as to be more easily managed during the planting process and future upkeep."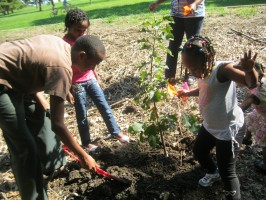 Geoffrey's group chose the natural setting, and picked a Swamp White Oak, Quercus bicolor. Geoffrey and Peter met to finalize details and pick the specific location.  The planting occurred on September 29, opposite the Muny on McKinley Dr.  One of the many causes Wangari Maathai championed was the founding of the Green Belt Movement that has planted over 35 million trees.  Planting another one in Forest Park seems like a fitting tribute.
You can read more about Wangari Maathai and her efforts for the environment by reading her own account in Unbowed, which is available in many local libraries.  Here are a couple of video clips to pique your interest.