By Peggy Whetzel
The U.S. Drought Monitor is forecasting the drought in the Midwest to continue through September 30.
I don't miss the roar of lawnmowers, the humidity, powdery mildew, mosquitoes or Japanese beetles. But I do miss the butterflies and fireflies. And I worry about the wildlife.
Should we conserve our water and let our native plants and wildlife get through this drought as best they can? Or do we keep our oases going?
With yards as hard as ironing boards, what are robins eating? With so few bugs, are wrens starving? Where will the few butterflies and hummingbirds find nectar? Ironically, about the only plants I see blooming along the road are chicory and drying Queen Anne's lace.
So I've been watering to keep the sunflowers, bee balm, milkweeds, Joe Pye weed and elderberries going. I confess to putting big bowls of water and peanuts in the shell out for the raccoons, and small bowls of water with rocks out for wasps and bees. All of a sudden, the back window looks like wildlife TV. Birds I've not seen all year are visiting, including one I've never seen in my yard and can't identify.
And I feel a sense of urgency. What now?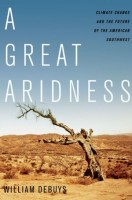 William deBuys, in his eloquent book, A Great Aridness: Climate Change and the Future of the American Southwest, lays out evidence that our world is getting drier, even as seas rise, as he puts it, as though someone had unplugged the refrigerator. He writes about researchers who have stepped away from the back-and-forth about the occurrence of climate change ("Is not!" "Is too!"), investigating what really happens when plants and trees die off, when fires rage, when there's not enough water to go around, and taking a look at the prehistoric and historic record for evidence of drought and plenty. He also looks at public policy to see what's being done, if anything, to stave off the consequences. It is one of the best-written books I have ever read.
I bring this up because last week my neighbor mowed his dried-up lawn of Bermuda grass. He's not a foolish man. And mowers along the highway seem determined to reduce everything to stubble and dust, surely not a wise move ecologically or economically.
I don't see much discussion of the paths we need to take in Missouri, not in terms of public policy or our own backyards.
What do you think we should be doing?  And why didn't anybody warn us?