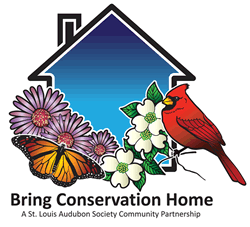 Many of us heard about the St. Louis Audubon Society's Bring Conservation Home (BCH) program at the March meeting.  It encourages homeowners to provide quality habitat for birds and other animals by:
Landscaping with native plants
Removing invasive plant species
Conserving water
Implementing stewardship practices to support wildlife
For a small fee, homeowners receive an assessment of their landscape and recommendations on how to improve their habitat.  When they are ready, they request a follow-up visit, after which they will receive certification at the silver, gold, or platinum level.
This program dovetails nicely with Wild Ones' efforts to encourage landscaping with native plants, and several members are already habitat advisors and conducting yard assessments.
In recognition of our shared goals, St. Louis Wild Ones has now partnered with St. Louis Audubon Society as an official BCH partner.  One of the benefits for Wild Ones members is that you will receive a discounted rate (half price) on habitat assessments.  When you apply, simply indicate that you are a Wild Ones member.