It seems like landscaping with native plants is becoming increasingly popular. Registration for recent workshops has filled up quickly. Fortunately, we've learned about more workshops.
Saturday, March 7, 9:30 – 11:00 AM
Native Plants for Homeowners
Rockwoods Reservation
Reservations required. Call (636) 458-2236 beginning Feb. 20.
(Adults) Are you new to native plants but not sure where to start? Naturally resilient native grasses, sedges, flowers, shrubs, vines, and trees are great for home landscaping. Solve common gardening problems and attract butterflies, hummingbirds, and songbirds. Learn landscape design ideas, plant sources, and techniques to identify and propagate home native plants. We'll even get you started with some seedlings to take home in time for spring planting. Please dress for the weather to visit the outdoor native gardens.
Saturday, March 21, 10 AM – noon
Natives for Novices: A Native Garden Design Workshop
Powder Valley Conservation Nature Center
Reservations required. Call (314) 301-1500 beginning March 7.
(Adults & Families, ages 12 and up) Would you like to encourage wildlife in your yard? Or maybe you would rather discourage it! Learn how to consider our native flora and fauna as you landscape. Explore some of the many choices Missourians have in the way of native trees, shrubs, and flowering plants, as well as water features and other structures.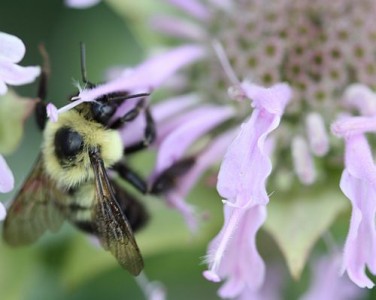 Saturday, March 22, 2:00 – 3:30 PM
Missouri's Native Pollinators
Rockwoods Reservation
Reservations required. Call (636) 458-2236 beginning March 9.
(Families) Learn about Missouri's native pollinators, their importance to the ecosystem and our daily lives. Construct bee boxes (homes for native bees where they can lay eggs) and discuss the benefits of attracting native bees and pollinators to your backyard garden.