By Kathy Bildner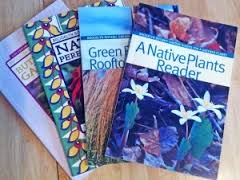 I am putting together a list of resources to share with schools that apply for our grants, and I'd like your help. As requested, several Wild Ones members sent suggested resources – listed below.
This is a great list, and I plan to keep adding to it. However, it can be overwhelming for teachers. I'd like to create a short list of 5 books, 5 web sites and 5 places to buy plants.
My 5 first choices are at the top of each list. Please leave your comments with suggestions for different priorities, or other resources to add.
Books — suggested reading:
Missouri Wildflowers by Edgar Denison
Native Landscaping for Wildlife and People by Dave Tylka
Bringing Nature Home by Douglas W. Tallamy
Tried and True Missouri Natives for your yard – Missouri Department of Conservation
Tall grass Prairie Wildflowers by Doug Ladd and Frank Oberle
Butterflies and Moths of Missouri by Richard and Joan E. Heitzman
A Field Guide to Your Own Back Yard by John Hanson Mitchell
The Terrestrial Natural Communities of Missouri by Paul W. Nelson
Pollinators of Native Plants by Heather Holm
Buzzwords by May R. Berenbaum
Suburban Safari: A Year on the Lawn by Hannah Holmes
Anything by naturalists Joe Hutto or Bernd Heinrich
The Living Landscape by Darke and Tallamy
Last Child in the Woods by Richard Louv
Shrubs and Vines of MO – field guide by Don Kurz
Caterpillars of Eastern North America by David L. Wagner
The Forest Unseen: A Year's Watch in Nature by David Haskell
A Country Year: Living the Questions by Sue Hubbell
A Book of Bees and How to Keep Them by Sue Hubbell
Noah's Garden by Sara Stein
Where the Sky Began/Land of the Tall Grass Prairie by John Madson
The Flora of Missouri volume 1 by George Yatskievych. Missouri Botanical Garden Press. 1999.
The Flora of Missouri volume 2 by George Yatskievych. Missouri Botanical Garden Press. 2006.
The Flora of Missouri volume 3 by George Yatskievych. Missouri Botanical Garden Press. 2014.
Trees of Missouri by Don Kurz. Missouri Department of Conservation. 2003.
A Key to Missouri Trees in Winter by Jerry Cliburn & Ginny Wallace. Missouri Department of Conservation. 1990.
Ozark Wildflowers by Don Kurz. Morris Book Publishing. 1999.
The Naturescaping Workbook by Beth O'Donnell Young
Go Native! by Carolyn Harstad, Indiana Univ Press, 1999
Gardening with Native Wild Flowers by Samuel B. Jones, Jr., Timber Press, 1993
Step-By-Step Successful Gardening:  Wild Flowers and Native Plants by Peter Loewer, Better Homes and Garden Books, 1995
Growing and Propagating Wild Flowers by Harry Phillips, Univ of North Carolina Press, 1985
Landscaping with Wildflowers by Jim Wilson, Houghton Mifflin, 1992
Landscaping with Wildflowers and Native Plants by William H. Wilson, Ortho Books, 1984
Websites:
Places to buy native plants:
Shaw Nature Reserve – Mother's Day weekend – multiple nurseries represented all in one place:
This year SATURDAY, MAY 9, 2015 9 a.m. to 4 p.m.
Pre-sale for Garden members only FRIDAY, MAY 8, 2015 4 to 7:30 p.m.
Missouri Wildflowers Nursery, 9814 Pleasant Hill Rd. Jefferson City, MO 65109, 573-496-3492, mowildflowers.net; he delivers to Kirkwood weekends in April
Missouri Dept. of Conservation, George O. White Nursery, P.O. Box 119 Licking, MO. 65542, 800-669-3787, mdc.mo.gov/your-property/seedling-orders-and-planting-guide/seedling-order-how, sells native tree & shrub seedlings
Prairie Hill Farm, 877 County Road 263, Auxvasse, MO 65231, (573) 864-9597, prairiehillfarm.biz
Bowood Nursery, 4605 Olive Street, St. Louis, MO 63108, (314) 454-6868, bowoodfarms.com
Forrest Keeling Nursery, 88 Forrest Keeling Lane, Elsberry, MO 63343, (573) 898-5571, fknursery.com
Ozark Berry Farm, 552 Lick Creek Road, Leasburg, MO 65535 (573) 677-1130, ozarkberryfarm.com
DJM Ecological Services, 2101 Ebert Lane, Wentzville, MO 63385, djmecological.com – large-scale plantings
Pan's Garden, 213 E. Third St. Mt. View, MO 65548, 417-934-2818 / 417-934-6537 – woodland native plants and ferns
Andy's Native Plants, 7 Huzzah Creek Rd, Steelville, MO 65565, (573) 786-2664
Pure Air Natives, Inc., 636-357-6433, pureairnatives.com – native plants and seed
Hamilton Native Outpost, 16786 Brown Rd Elk Creek, MO 65464, 417-967-2190, hamiltonseed.com
Bluestem Prairie Nursery, Rt. 2, Box 106-A Hillsboro, IL 62049, 217-532-6344 – native seed (packets only) and plants
E. Nursery, North Old Route 66, RR3, Box 4 Litchfield, IL 62056, 217-324-6191 – native plants
St. Francois Natives, www.facebook.com/StFrancoisNatives
Greenscape Gardens, 2832 Barrett Statiion Rd., Manchester, MO 63021, 314-821-2440, greenscapegardens.com
Garden Heights Nursery, 1605 S. Big Bend, Richmond Heights, MO 63117, 314-645-7333, gardenheights.com