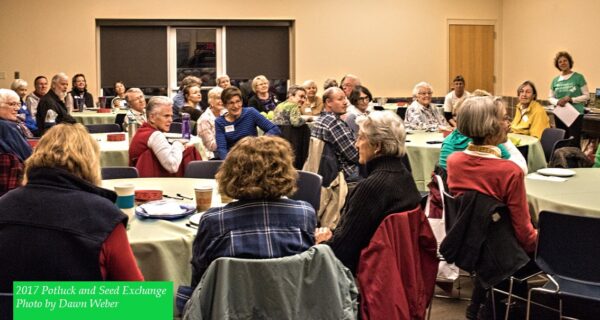 Wednesday, November 2, 2017
Our annual potluck dinner and seed exchange attracted 40 members and five guests at The Heights community center of Richmond Heights.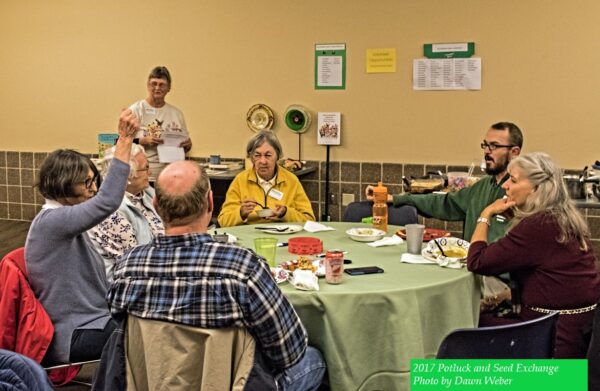 A fun 10-question game of native plant trivia was enjoyed by all.
Election of Chapter Officers, Board of Directors
The current members of the chapter Board of Directors are willing to each serve another two-year term. Nominating committee members Kathy Bildner, Marcia Myers, and Ed Schmidt agreed this slate be presented to the membership for approval.
President – Marsha Gebhardt
Vice-President – James Faupel, also Landscape Challenge chairperson, also Outreach and Speakers' Bureau chairperson
Secretary – Fran Glass, also Membership chairperson
Treasurer – Penny Holtzmann
Members at Large:
Dawn Weber, also Technology Communications Committee chairperson, also Plant Sale Committee chairperson
Sue Leahy, also Publicity/Marketing chairperson
Marypat Ehlmann, also Volunteer coordinator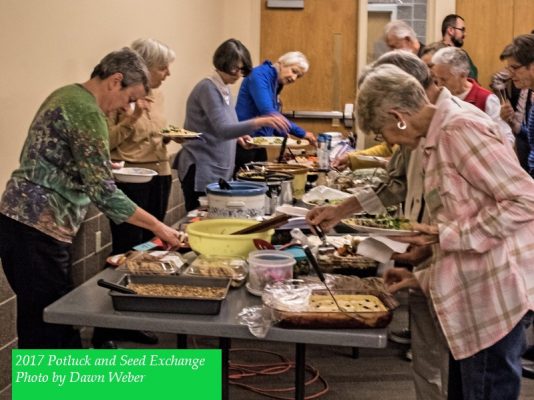 No additional nominations were made from the membership.
Ed Schmidt made a motion to approve the slate of nominees for the 2018 chapter Board of Directors. Nancy Kuhlman seconded. The motion was approved unanimously.
Committee Members
Marsha Gebhardt recognized the following committee chairpersons and members:
Grants Committee – Kathy Bildner, chairperson; Ed Schmidt, Marsha Gebhardt, Tessa Wasserman, Susan Burk, Judy Speck, Barbara Brain, and Jane Pisoni
Program Committee – Susan Orr, chairperson; Anne Rankin Horton, and Prem Barton
Technology Communications Committee – Dawn Weber, chairperson; Marcia Myers, Besa Schweitzer, and Fran Glass
Plant Sale Committee – Dawn Weber, chairperson; Sue Leahy, and Susan Burk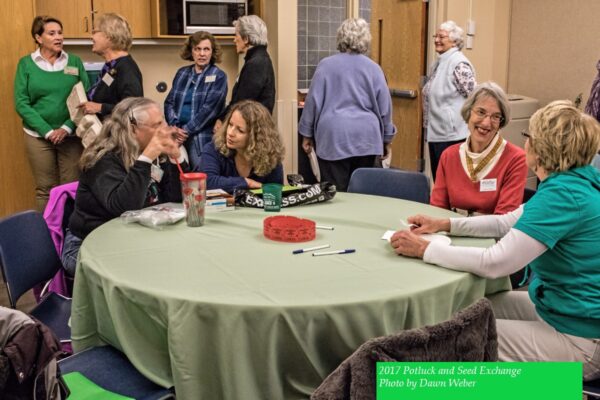 Native Plant Garden Tour Committee – Wild Ones members Marsha Gebhardt, Dawn Weber, Sue Leahy, Linda Tatum, and Dave Tylka
Seedling order chair – Ana Grace Schactman
CommuniTree and Creve Coeur Lake Memorial Park project liaison – Tessa Wasserman
2017 St. Louis Native Plant Garden Tour hosts: Sherry Ann Cordover, Kevin Mowery, Susan Orr, and Sue Reed
2017 monthly gathering yard tour hosts: Susan and Fred Burk, Besa Schweitzer and Chris Weiss, Andy Guti and Sherri DeRousse, and Kevin King
Volunteer Awards
Volunteer coordinator Marypat Ehlmann read the list of 2017 activities that involved volunteer efforts. Each member in attendance wrote their name on a ticket for each time they volunteered. Then a drawing took place for numerous prizes which included a bee house, garden aprons, Wild Ones signs, a jigsaw puzzle, a headlamp for gardening after dark, a milkweed village t-shirt, and several books donated by former chapter member Penney Bush-Boyce.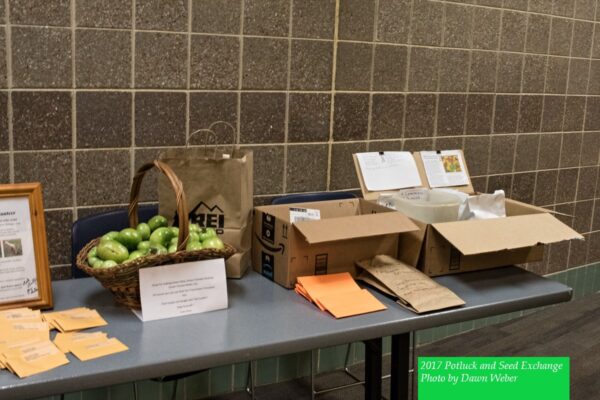 Copies of our chapter membership list were distributed.
Marsha Gebhardt made the following announcement.
Change for 2018 Gatherings
Next year our monthly gatherings will be on the second Wednesday of each month, starting in February. We do not meet in December or January.
Next Gathering
Wednesday, February 14, 2018.
Important note: this is the second Wednesday of the month.
Jo Alwood will present her videos on Habitats that Attracts Wildlife.
Location: THE HEIGHTS community center in Richmond Heights
Carpooling is encouraged.
Directions
Recorded by: Fran Glass, Secretary
Photos by Dawn Weber