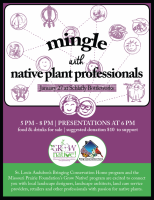 Mingle with native plant professionals
When: Wednesday, January 27, 5:00 – 8:00 p.m., presentations at 6:00 p.m.
Where: Schlafly Bottleworks
Cost: Suggested $10 donation
Registration: No
About: St. Louis Audubon's Bring Conservation Home program and Missouri Prairie Foundation's Grow Native! are providing an opportunity to connect with local landscape designers, landscape architects, land care service providers, retailers, and other professionals with a passion for native plants.
Landscaping ideas for the intrepid homeowner
St. Louis Wild Ones February meeting and speaker
You do not need to be a member to attend.
When: Wednesday, February 3, 7:00 p.m.
Where: The Heights Community Center in Richmond Heights
Cost: Free
Registration: No – For more information including directions
About: Kim Reiss, a manager at Sugar Creek Gardens, will present: Are you interested in adding native plants to your yard, but don't want to end up with a hot mess? We'll take a look at some landscaping basics and cover plant ideas for a small yard, privacy, dry areas, and wet spots. Get inspired to create a new garden, spruce up a tired yard, or just get ideas. Even lazy gardeners can successfully grow a beautiful native garden!
Native by design: Landscapes beyond beauty
When: Friday, February 26, 7:30 a.m. – noon
Where: Lewis and Clark Community College, Edwardsville, IL
Cost: $30, student admission with valid ID is $20
Registration: Required – For more information and to register
About: The Grow Native! Southwestern Illinois Event Committee presents a lineup of speakers who will discuss information from the frontline of concepts surrounding the value of native plants in our landscapes. Speakers are Doug Tallamy (keynote), Jean Ponzi, Rick Macho, Becky McMahon, Mitch Leachman, Ellen Nordhauser, Tom Shirrell, Scott Moss, Tom Doyle, Jesse Riechman, Bill Klunk, and Lyle Guyon.
[Editor's Note: Upcoming Native Plant School programs and St. Louis Wild Ones Board and general meetings are listed on the calendar.]