Blog and Photos By Kathy Bildner
Member, Wild Ones – St. Louis Chapter
Plant Name: Bluebells (Mertensia virginica)
Description: The flowers are pale blue, one-inch long, bell or trumpet shaped. They hang down in loose clusters from the top of the plant. There are more leaves than flowers with leaves being a beautiful smooth gray-green color, oval shaped with rounded tips. The plant can grow up to two-feet tall.
The seeds form in the flower as four nut-lets. The blue flower petals will drop off to reveal the seeds, which will then turn tan or yellow when they are ready to harvest. Plants grow from seed easily. Let them fall where they are or collect them and throw them in other flower beds in your yard.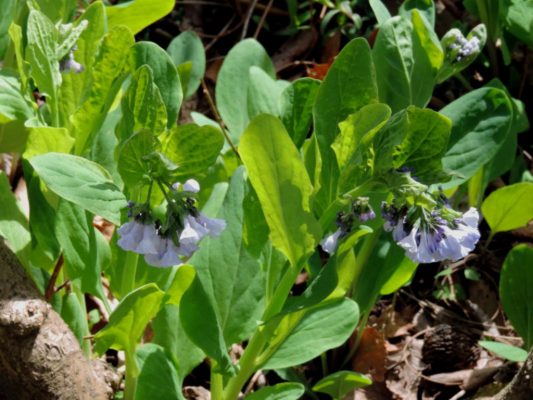 When the young plants come up next spring, you can recognize them by the leaf color. It is the same color and texture as the parent plant. Bluebells will not bloom the first year but should the second. Remember, they wither and completely disappear after they drop seeds. Do not dig them up by mistake when you plant other plants in the same area.
Why I chose this plant: I love them because they are one of the first wildflowers to bloom in the spring.
Visitors: I have noticed that many types of bees visit the flowers. I have never seen rabbits eating it. This is a big issue in my yard.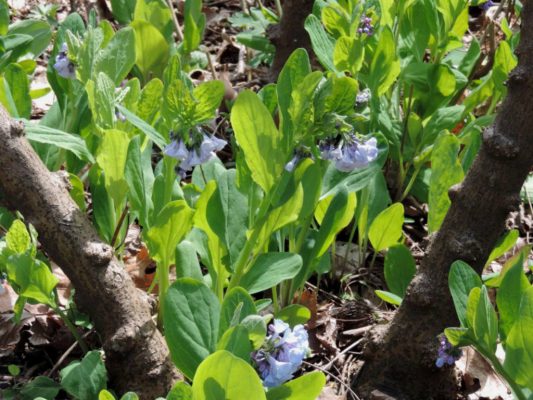 Environment: In the wilds of Missouri, they grow in large patches in low rich woodlands. In our yards they do well underneath trees in the leaf litter. They come up, bloom, and are gone early in the spring before most of our prairie plants have started and before the trees leaf out.
Where to see bluebells in the wild: I have seen them growing at Shaw Nature Reserve down on the floodplain close to the Meramec river. They grow in a similar situation along the Al Foster trail in Glencoe and along the LaBarque creek at the Myron and Sonya Glassberg Conservation Area.
Available to purchase: During the Mother's Day weekend sale at the Shaw Wildflower Market at Shaw Nature Reserve, one can buy bluebells. The plants at the sale will have bloomed already and may be dormant.