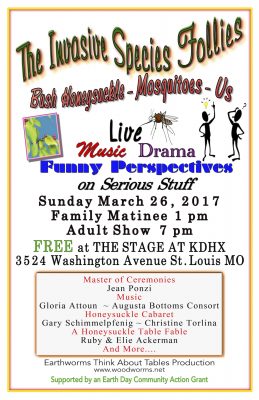 Join KDHX for a live recording of Earthworms with Jean Ponzi and free entertainment.
Event: Invasive Species Follies
Bush Honeysuckle, Mosquitoes and Us!
Where: The Stage at KDHX
3524 Washington Avenue, mid-town St. Louis
When: Sunday, March 26, 2017
-Family Matinee 1:00 p.m.
-Adult Show 7:00 p.m.
Food: Magnolia Café will be open for pre-show lunch/dinner/treats
Hosted by: Jean Ponzi of KDHX Earthworms
Cost is free. To reserve tickets:
Family Matinee
Music by Gloria Attoun and Augusta Bottoms Consort
Drama with Honeysuckle Cabaret, Ruby's Honeysuckle Table Fable
Adult Show
Thrills from Dale the Honeysuckle Wizard, Sarah the Honeysuckle Stripper!
Funny, tuneful perspectives on SERIOUS STUFF!