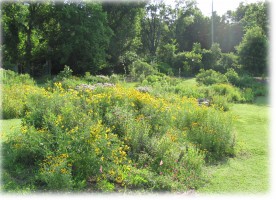 by Betty Struckhoff
St. Louis Wild Ones members enjoy informal educational opportunities every month as we visit yards and public plantings of native plants.  This month, we have a second chance to see and learn, enjoying an evening at the Museum of Transportation.  Wonderful beds of sun-loving natives were established here in 2007, designed by our own Cindy Gilberg.
On Thursday evening, June 20, the St. Louis County Parks Department, in cooperation with Wild Ones, will offer the public a native plant scavenger hunt at the museum.  There will be prizes, including a copy of Doug Tallamy's wonderful book, Bringing Nature Home, a certificate for a free yard consult in St. Louis Audubon's Bring Conservation Home program, and more.
Participants will follow clues to identify and learn more about interesting native plants.  Wild Ones members may participate in one of two ways:
Volunteer to coach and help participants in the scavenger hunt.  The qualifications are some experience with native landscaping and the desire to share your knowledge and excitement with others.  Volunteers will receive an email a week before the event with information about the scavenger hunt questions, and will arrive at 6:30 p.m. on June 20 for a brief orientation.  Volunteers will not be eligible for the evening's prizes.  The event will be about 1 1/2 to two hours long.  To volunteer, contact Betty Struckhoff (314-966-8404) — or use our online contact form.
Participate in the scavenger hunt and be eligible for prizes.  The event begins at 7 p.m., and the cost is $10.  Children 10 and under are free if accompanied by an adult.  Pre-registration is recommended. Download the Museum of Transportation map and parking information.  Please park in the main lot.
Come spend your summer solstice eve at the museum!