As an experiment this month, two yard tours were held in one week at the same property.  Members and guests chose the date and time most convenient for them.  On Wednesday's stormy evening, president Ed Schmidt welcomed 7 guests and 16 members at 6:30 p.m.  At 9:30 a.m. on Saturday membership chair Betty Struckhoff welcomed 11 members.
Program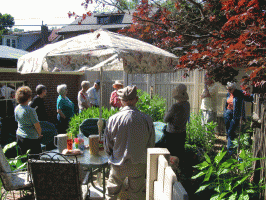 Diana Oleskevich hosted the yard tours in the Tower Grove area where she and husband Jim live. When they moved into the 100-year-old house 13 years ago, their small urban yard consisted of one tree and turf lawn.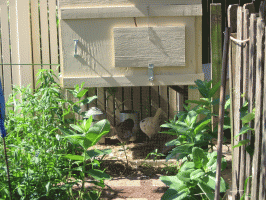 Diana described how they converted the yard one 4 x 6 foot patch at a time to include a fish pond dug by family members, herb and vegetable gardens, native plants along with non-native perennials, and a chicken coop that is half in their yard and half in the neighbor's yard.  Six families share the upkeep of the chickens and the eggs.
Announcements and Volunteer Opportunities
Spring Wildflower Market at Shaw Nature Reserve – Marilyn Chryst
The number of native plant sold by vendors this year far exceeded past years.  We sold 93% of the plants we consigned from grower Devin Chandler.  Marilyn thanked our volunteers.  Special thanks to Marilyn for managing our booth.
Membership
Betty Struckhoff discussed membership benefits.
Native Plant Scavenger Hunt at the Museum of Transportation – Thursday, June 20, 7 p.m. Volunteer opportunity.
Saint Louis County Parks will offer a scavenger hunt at the Museum of Transportation.  Adults and children will use clues to find interesting native plants, and learn how they can attract birds, butterflies and other wildlife.  Betty Struckhoff circulated sign-up sheets for volunteers to help from 6:30-8:30 p.m. to coach participants and talk informally one-on-one about the benefits of native plants. Contact Betty Struckhoff, 314-966-8404 to volunteer.
St. Louis Zoo Pollinator Dinner – June 18


Each year the St. Louis Zoo offers this special dinner where guests can sample many foods pollinators help provide.  Before dinner, guests sip mead, enjoy honey tasting and peruse tables and displays about bees and other pollinators from exhibitors including Missouri Prairie Foundation, AgriMissouri, Eastern Missouri Beekeepers Association, Gateway Greening, Wild Ones and others. After dinner, attendees hear a presentation on pollinators and projects of the Center for Native Pollinator Conservation, with information about what they can do to help bees.
For reservations, call 314-646-4897.
Sustainable Backyard Tour – June 23
Visit dozens of area homes promoting sustainable practices.  For a tour map and to register for this free event, go to www.sustainablebackyardtour.com.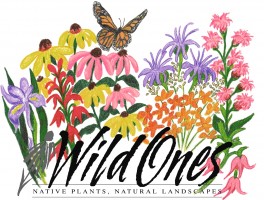 Wild for Monarchs Campaign Liaison
Ann Early has accepted the volunteer position of chapter liaison for the national Wild Ones' Wild for Monarchs Campaign.  Wild Ones has partnered with Monarch Joint Venture and Monarch Watch's Bring Back the Monarchs program to create this campaign.  Contact Ann to obtain campaign brochures to distribute.
Next meeting:  July 10, 6:30 p.m.  (Note this is the 2nd Wednesday of the month)
Yard tour at the home of Chan Mahanta in North St. Louis County.
For directions see our online calendar.
Recorded by:  Fran Glass, Secretary